NEW HOUSE CONSTRUCTION - 2014 WORK SCHEDULE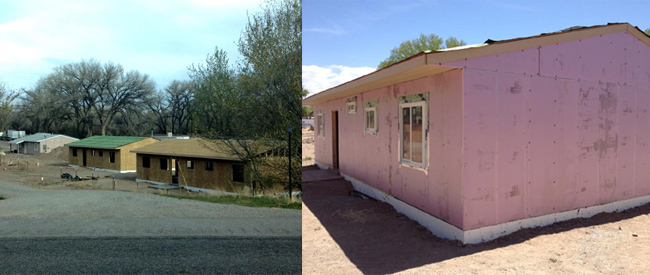 Currently 2 new homes are under construction within our Subdivision located at Camino Habitat ¼ mile south of Espanola on the Los Alamos Hwy. or State Rd. 30. There is a large Habitat sign at the entrance to Camino Habitat. Please feel free to volunteer on any Saturday indicated below.

Work starts every other Saturday at 9am, finishing up about 3:30pm

July 19th
August 2nd, 16th & 30th
Sept 13th & 30th
Please dress appropriately for the weather, bring a water bottle if you can. You may want to bring snacks for yourself. Lunch is provided. Bathrooms and refrigerator on site.
If you have your own hammer or other tools you are welcome to bring them, we do have tools for your use though. No special skills are required, Tony our Strawboss will give you instruction for the day. Volunteer forms and safety waivers are at the site for you to complete upon arrival.
Here are few pictures taken our last work day August 20th. Mark, Willie & David; Willie painting and Trish our new volunteer coordinator clearing some weeds.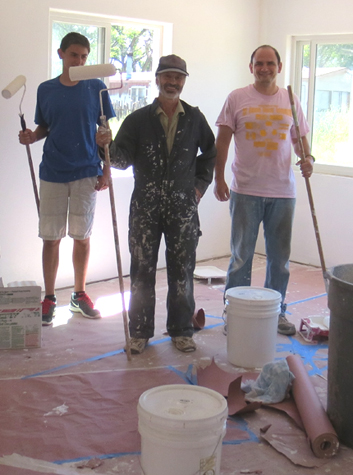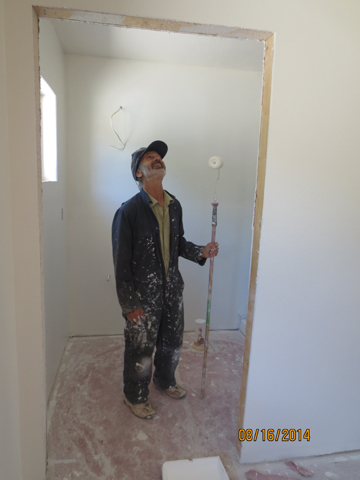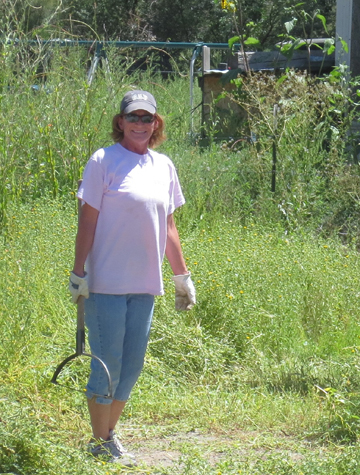 If you'd like to confirm the work day due to bad weather etc., you are welcome to call Yvonne 505-614-5853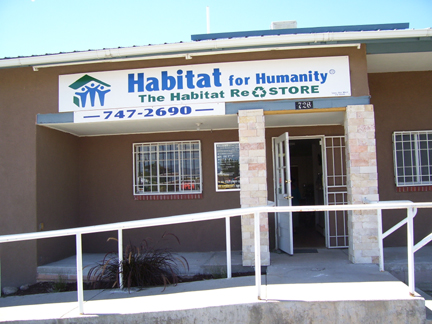 726 Riverside Drive
Espanola, NM 87532
click here for map
ph: (505) 747-2690
What we build
Our houses are simple, decent, and affordable - they are low cost, but families still need to pay a mortgage. See what Habitat houses are like around the world. Whenever possible, we build sustainable, energy-efficient and healthy housing. Learn more about our construction technologies.
How it's possible
Homeowners and volunteers build under trained supervision. We raise money from good will donations in our Espanola Thrift Store and Restore sales.
Individuals, corporations, faith groups and others provide vital financial support. Learn more about Habitat's stewardship of these resources in our Annual Report and Financial Statement.
In the U.S., Habitat for Humanity lends no-profit, no-interest mortgage loans to its beneficiary families.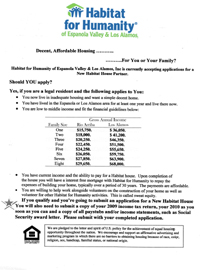 On a global scale, Habitat's traditional model is not always possible. Our international housing finance programs consist of innovative housing finance practices and/or partnerships with microfinance organizations. Volunteers provide most of the labor, and individuals and organizations provide money and materials to build Habitat houses. Partner families must provide 300 hours of "Sweat Equity" labor to help build their homes. Their mortgage payments also help to build additional houses.
Habitat is not a give away program. In addition to a down payment and monthly mortgage payments, homeowners invest hundreds of hours of their own labor (sweat equity) into building their Habitat house and the houses of others.
Habitat houses are sold to partner families at no profit and financed with affordable mortgages at no interest
The homeowners' monthly mortgage payments are used to build still more Habitat houses.
How are partner families selected?
Families in need of affordable shelter apply to Espanola Valley & Los Alamos chapter. Interested in owning a new Habitat home.
The affiliates family selection committee chooses homeowners based on their level of need, their willingness to become partners in the program and their ability to repay the loan. Every Affiliate follows a nondiscriminatory policy of family selection. Start by calling our office: (505) 747-2690 or send us an email: director@habitatevla.org